4
What is an android tv box?
I am glad you asked what is an android TV box

Android is the operating system that powers more than one billion devices (smartphones, tablets and alike).
Android is open source thus making it popular with technology companies that require a ready-made, low-cost and customizable operating system for high-tech devices. This has led to the popularity of devices using android as operating system and running some proprietary software or add-ons to stream multimedia content.
Some of these proprietary software include Kodi (formerly xbmc) which powers some add-ons and plugins allowing the viewing of TV shows, movies, cartoons etc…
Although there is no hard definition for what is an Android TV Box, we can argue that it is a device running an android operating system with any additional software allowing  the user to watch multimedia content (in this case TV content).
I can only guess that they are called boxes because of their small size and shapes. Actually you will find android mini-pc sticks as well as android tv boxes. They are all the same type of units running of the same hardware. The sticks are way smaller in size though.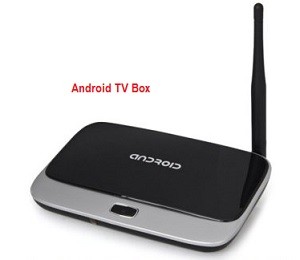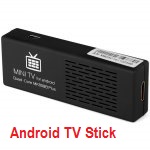 General Features of Android TV Boxes
There is plethora of tv boxes running of android and I share below some of their common features:
Powerful Chip Quad Core
Most of android tv boxes will have an android compatible hardware inside with a dual or quad-core processors based off the Cortex A series core (A9, A7, A5 etc…). The clock speed is up to 1.6Ghz+ thus allowing for a smooth running of your applications.
Graphic Card
The GPU (Graphical Processing Unit) is often the Mali-400 (or Mali-450), a standard GPU from ARM Company which goes with their Cortex processors. The GPU can handle 1080p video and decode a wide variety of video formats (avi, mp4, mpeg, mkv, mov, dat etc…). Some will even support the 4K resolution.
Memory
Most of android devices will offer 1-2 GB of RAM DDR3 and anywhere between 4-8 GB of ROM storage. Additional storage if powered through a micro SD card which goes up to 32GB. You can also connect one or multiple external hard drives via USB ports on the device.
The units boost the android OS version 4.xx, support wi-fi and Bluetooth connectivity coupled with the standard RJ45 wired capability.
Some devices such as the Q7S even offer a 2.0MP camera for visual communication such as Skype.
Ports
The Q7S features two USB 2.0 ports and one micro USB OTG port. Support webcams and microphones to external hard drives and USB sticks. Furthermore, this box supports HDMI 1.4b connector, AV out, SPDIF to connect a home cinema, a Micro SD card slot and a jack for Ethernet, giving you the best possible connection. Also, there is an on / off button available
What could you use the an android tv box for?
The device will have access to all the applications and functions found on any other android unit. It's a pc in itself with the capability of running android applications, surfing the web and playing plenty of games. You can also access Google Play Store for downloads, Facebook, YouTube and so forth. You could also connect to your other devices within the same network and share contents such as videos, music and photos.
Motion-sensing Games
You can enjoy 2d/3D motion sensing games using air mouse.
Multi-screen interaction
You can stream online video or local media contents like music, picture, and video on your smart phone or tablet PC to big screen of a HDTV or projector through DLNA or Airplay protocol (on some models).
Media Center
Most of the devices will come with Kodi (formerly xbmc) pre-installed. If not, you could easily install Kodi  and watch your favourite tv shows and movies.
Kodi is an award-winning free and open source software media center for playing videos, music, pictures, games, and more. It features a 10-foot user interface for use with televisions and remote controls.
You also have the option of downloading the streaming application of your favourite content provider such as Netflix. All of these can be done with a wireless keyboard and/or touchpad.
One of the key features that I like about the android tv boxes is the fact that you can turn your old tv into a smart tv. Indeed you can use a standard RGB cable to connect to old tv thus enjoying surfing and your favourites games on the big screen.
Additional Resources