4
CS918 Android TV Box Review
Hey Rik here
The other day I finally decided to visit a buddy of mine to check out his smart tv box he's been bragging about for a while now. It's the cs918 android tv box.
If you are not sure what an Android tv box is, then you should probably read this article that I wrote about these small devices not long ago. My passion for smart tv boxes started with my own matricom g-box q.
As you can imagine I am a big fan of android boxes, so I could not help but playing around with his device to figure out what set it apart from other boxes.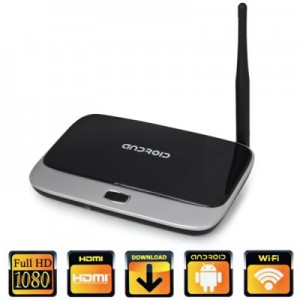 CS918 Android TV box Review: Key Features
I was actually surprised to see how tiny the cs918 is. It can easily fit in your hand, cost less than $60 and more importantly boots so many great features.
Loads of applications such as Skype, Facebook, Gmail, Youtube and unlimited games you can download directly from Google Store.
I also noticed that the device comes with hdmi and av cables. The av cable can come in handy if you have one of those old tvs without hdmi connection. You can still enjoy unlimited entertainment with your android box.
As additional features, it's based on the ARM cortex-A9 processor with quad core Mali-400MP4 GPU and the latest Android OS. It has a 1GB DDR3 ram, 8GB rom and supports micro SD card up to 32GB. If this is not enough you can also connect an external hard drive via USB, or use a NAS.
The cs918 android tv box comes with built-in Bluetooth, supports XBMC/kodi and a full HD 1080P video decoding. There is also an external wi-fi antenna and a standard LAN 10/100mbps Ethernet port.
The PROs
What I really like about this Android tv box
I like the fact that you can enjoy Youtube and other movie applications directly on the TV screen. The external antenna gives a robust signal to the wi-fi connection. You can connect to other devices within the same network and share contents such as videos, music and photos.
The CONs
What is not so great about the cs918?
Without surprise the remote control is an issue like in other devices of this type.
As I pointed out before, you can get a replacement remote here or use any wireless keyword.
I had to clear the cache after test driving a full HD movie for the device to continue playing without buffering. I suspect that the version with 2GB of RAM would not have such an issue.
There is no internal microphone on the device therefore to use skype you would need a Bluetooth microphone and/or webcam connected.
I found that there is another version of the cs918 that actually has the integrated microphone. It's the cs918s. You can read more about the cs918s here. I would not recommend you go for this version if you are not tech savy as the reviews have been mixed about it.
Conclusion
I would recommend the cs918 Android TV Box for the TV fan that is looking for an under $100 device to enjoy unlimited entertainment. The standard box comes with 1GB Ram which could be a bit limiting if you are used to watching movies in full HD 1080. I would instead go for the enhanced option with 2GB of memory. If you would also like to skype from your TV using and integrated microphone and camera then try out the cs918s. Please bear in mind that this one had some mixed reviews so you may want to play it safe and buy an skype headphone.
You can read more reviews about the cs918 Android TV box by clicking here.