How I saved $510 in 6 months with an Android TV Box
Introduction
Hey Rik here,
If you are looking for the best way to save $85 or more on your monthly cable bills, then I am glad you've found this website and I strongly suggest you keep reading…
Because this is my uncensored story about how I saved $510 within 6 months of using an Android TV Box. Click here to see the product I am talking about.
Read by detailed review of the Top 10 Best Android TV Boxes Here.
I bet you threatened to get rid of cable tv more than once but somehow you stayed put because you didn't know how to get rid of cable tv without missing out on your favorite movies, shows and live sports. I know something about it as I was there few months ago.
I was sick and tired of spending more than $115 per month to enjoy only few channels that really matter to my family and me. The frustrating part for me was not to be able to customize my channel packages without adding some additional fees for each theme as they call them.
Not to mention the support or customer service part of things. Makes you wonder if you are talking to "robots" at times. Well trained to read a script which does not fit all cases….
I searched online for some ideas, guides, and tricks to somehow ditch my cable subscription. Most of them were ok but not really what I was looking for.
Enter the G-Box Q. It allows me to save $85 per month on my tv bills. I used to spend $115 + taxes per month for tv ($85 for the content portion and $30 for the high speed internet).
The process does not require any high tech skills at all and anyone can do it.
What is the Android Tv Box G-box Q?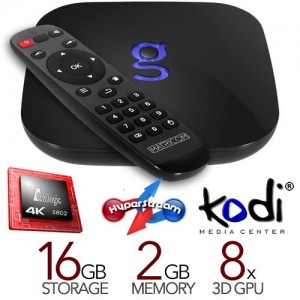 G-box is one of the most popular android tv boxes used for online streaming of multimedia content such as movies, tv shows, sport events. The device has evolved since its first inception. The latest model is the G-box Q (former models include the G-box midnight, G-box MX2). The company behind the original brand is Matricom.
 What sets the G-box Q apart?
The G-box Q is a high-spec device that takes your Tv experience to the next level. It is four times more powerful than the MX2 and allows you to watch your favorite movies and live streams with vivid and smooth playback.
Specifications
Central Processing Unit (CPU) and Graphical Processing Unit (GPU)
The G-box Q uses the Amlogic S802 Quad Core CPU and an Octocore Mali-450 3D GPU. It is capable of delivering high ultra HD resolutions. You can enjoy your favorite 3D Games, watch cutting edge 4k ultra HD movies without worry.
Memory and Storage
The RAM is 2GB DDR3 and the storage size is 16 GB. No more buffering and wasted time waiting for your videos or games to load.
Input and Output ports
The G-box Q comes with an HDMI port, two USB ports, Ethernet, Optical and a SD Card slot. The USB ports provide for additional storage such as an external hard drive or flash drive.  You can also connect a wireless keyboard via the usb ports. The Ethernet port is 10/100 mbps full duplex.
Wi-fi and Bluetooth
The G-Box Q integrates the high performance Broadcom 5G Wi-Fi chipset pushing the transmission of data required for 4K video streaming.  This is a dual band wi-fi technology therefore if you have a dual band wireless router that can use the 5 GHz frequency with the new 802.11ac protocol then you can clock up to 750mbps.
The Bluetooth is version 4.0 with low power and full speed.
Operating System and Updates
The device comes with Android 4.4.4 giving you the latest android experience and it will automatically update to newer versions seamlessly using cloud updating technology.
Media Center (Kodi)
G-Box Media Center is based on Kodi Technology. It is specially tailored to include features and codec compatibilities that allow it to outperform any other set-top boxes on the market, making it the best Android TV box for Kodi streaming and media playback.
Read more about the G-box Q specifications here.
How to connect the G-box Q and enjoy unlimited TV
Connecting the G-box Q to your TV is straight forward. The box comes with an HDMI cable you hook up to your TV and that's it! There is also an IR remote control in the box but you can also use a wireless keyboard and mouse to control the device.
You would use an Ethernet cable to connect the RJ45 port to your internet router. Alternatively you can setup the device to use wi-fi connection.
Why use the G-box Q device?
There are several reasons why you would want to use the G-box Q unit and any android tv box for that matter (besides the obvious cost saving goal):
As previously mentioned you could save $85 or more on your cable TV bills.
No more binding contract with cable companies
Internet streaming content is almost unlimited
You can watch your favorite shows online including documentaries, live sports, movies and much more
You can watch your shows without these annoying commercials. Yes, online streaming with these devices is done without constant commercial hits.
Fewer is no more dealing with customer representatives
More flexibility
What is not so great about the G-box Q device?
The included IR Remote Control
The remote that comes with the device is a basic one. It has the typical keys: power, number keys, volume up and down, directional arrows with the center "OK" button. It also has a mouse mode button that enables the on screen cursor. The cursor is controlled by the arrow keys and works as expected. It works great for basic functions of Kodi/Xbmc but becomes annoying when you want to use other applications from Google Store or the like of  Youtube where you need a fully-fledged keyword to work properly.
I recommend using this remote or any wireless keyboard will do the job for that matter.
A bit complex to setup (Kodi)
The TV box is great for a nerd who wants to spend some time setting things up, and customizing it. But it could be a fairly daunting product for a non-technical person to setup. I am referring especially to the Kodi portion of things.
There are many guides and videos on the web showing how to just to that. Starting with my detailed step by step article located here.
No RGB cable for older TV
The device comes with an HDMI cable and has no connection means to older TV sets.
Recommendation
The G-Box Q is very impressive with a quad core processor and octocore GPU allowing 4k ultra HD resolutions. It is the most popular Android based set-top box at the moment ideal for internet streaming, along with free movies, tv shows and sport events. It also allows international channels viewing thanks to its compatibility with free IPTV international broadcasts all running within the Android operating system.
I would highly recommend the G-Box Q as a solid option for anyone looking for a Kodi/Xbmc payer.
Read My Detailed Review of the Top 10 Best Android Boxes Here.
FAQ
Is watching Streaming videos illegal?
This is probably one of the top frequently asked question. I live in Canada and I am no lawyer and can't certainly advise you about any legal stuff.
From what I know though, in Canada, copyright laws exempt temporary reproductions or copyrighted works. Since most streaming video does not actually involve downloading a copy of the work (it merely creates a temporary copy that cannot be permanently copied), it is not illegal to view streaming videos in Canada.
Furthermore, only the online streaming site you're connected to knows the internet address of the viewer. That means that even if they wanted to, copyright holders simply can't know who's watching these videos.
In United States, the laws are much more complex and so I can't certainly offer advice as to the legality of streaming shows. There are lots of legitimate uses such as Netflix, Hulu, which requires a monthly fee and work on any android tv box. However if you chose to use streaming with Kodi add-ons like Genesis, you do so at your own risk.
Do I need one Android Box for every TV?
For the best experience, one android box per tv works best. You can move the box between TVs if you want to, however you can't stream from a remote TV that is not directly connected to the android box.
Additional Resources
G-Box Q Quad/Octo Core XBMC/Kodi [2GB/16GB/4K] (Rev 1.2+)