C120 2.4GHz Air Fly Mouse Wireless Mini Keyboard Review
Introduction
This is a quick review for the C120 Air Mouse. It's an excellent remote controller for your Android Tv Box. If you are in a hurry you can see the device here or jump to my recommendation.
Indeed, I came across this portable mini wireless remote keyboard mouse and thought I would write a quick review for you. As you may already know by now, I am a big fan of Android Tv Boxes. In one of my previous article, I shared that the native remote that comes with the box is not good. I also recommended the Rii8 remote as a replacement.
I have since tested several air mouses and I must admit the C120 is one of my favorites.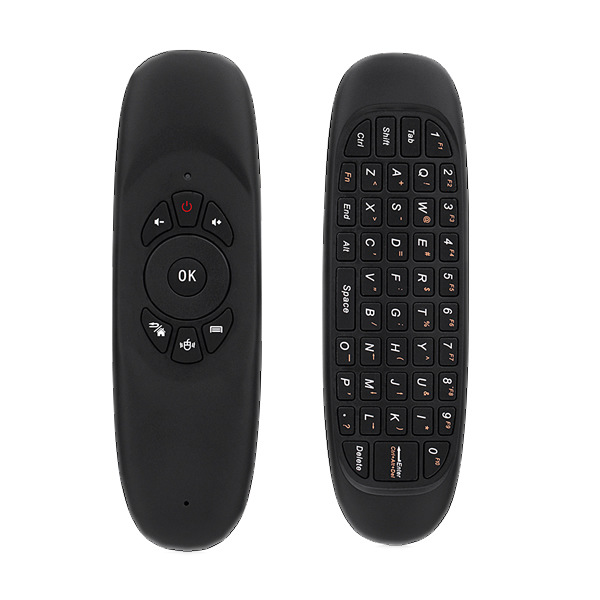 What is the C120 Air Mouse Keybaord?
The C120 is a mini keyword wireless remote mouse designed to replace all your keyboard and remote controller needs.
This air mouse operates smoothly up to 10 meters and have some advanced technology built in such as gyroscope and professional anti-shake algorithms.
In case you are wondering what the heck is gyroscope and accelerometers, they allow the device to be moved around and select any menu item with ease. This makes our movie viewing experience on the android box and any other device more enjoyable.
What are the features of the C120 Air Mouse Keyboard?
In other word, is this a mouse or a keyboard? The answer is: both! Yes the C120 is a versatile unit you can use as mouse as well as keyboard. Actually it has 4 functions namely: a full qwerty keyboard, a remote controller, an air mouse and a multimedia android remote handle.
Here are the technical specifications:
– 6-Axis gyroscope technology
– 2.4 Ghz Wireless Technology with Nano USB Receiver
– USB 2.0
– Air Mouse With Anti-Vibration Technology
– Built-in rechargeable lithium battery
– LED indicator light for working status
– Compatible with Android, Windows, Linux and Mac OS
– Product Weight 0.65 kg
– Product Size (LxWxH) 5.94×0.57×0.55 inches
Although I keep on mentioning the Android Tv box, note that the C120 Air Mouse is compatible with Windows, Linux and Mac Os as well.
The gyroscopic technology allows you to move the unit in any direction and still get a good response from you clicks or input provided. After 20 seconds or so the device will go on standby just to save on power. A USB cable is also provided for your to recharge the air mouse when the battery is low.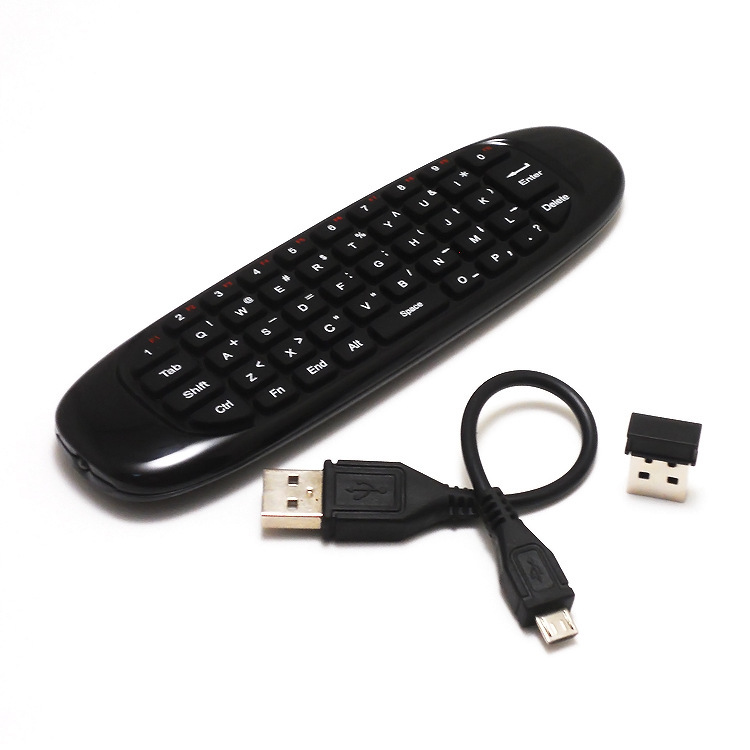 My recommendation
In my opinion, the C120 Air Mouse is an excellent tool to have for your multimedia needs. If you are looking for a stylish remote controller to replace those bulky remotes then the C120 is a good choice.
You can now take control of all your multimedia devices and connect to your favorite units via wireless. No more struggling to compose emails, while browsing the web, or playing video games.
The icing on the cake if the fact that you can also use this device to control your professional presentations, for teaching, and lecturing with larger screens.